High Park / Swansea - Community Info
High Park / Toronto
Neighbourhood & Community Overview

The High Park neighbourhood is home to a wide range of people. Its highly regarded schools including Humberside Collegiate attract many families with school age children to this neighbourhood.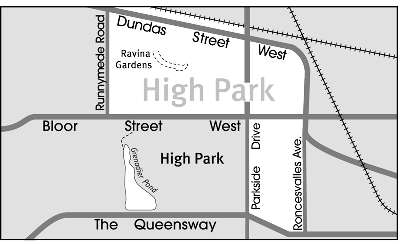 High Park contains numerous rental opportunities that are popular with singles and couples. There are also a handful of seniors accommodations within this neighbourhood.

The topography of the High Park neighbourhood features gently rolling hills, winding streets, and towering Oak trees that enchant and delight all those who live here.

The beauty of this neighbourhood emanates from High Park which is one of Toronto's largest and most popular parks.

Homes

High Park's winding tree-lined streets are lined with impressive Victorian, Edwardian, and Tudor-style homes.

These captivating houses were built largely during the late 1800's and early 1900's. Several of these houses have been divided into multiple-family dwellings.

High Park's distinctive brick homes feature a variety of architectural details that vary from house to house. These features include leaded and stained glass windows, lush wood trims, french doors, hardwood floors and fireplaces.

The High Park neighbourhood also features a selection of condominium apartment buildings along Quebec Avenue, north of Bloor Street. These apartments are in the entry level price range. They include balconies, some of which feature south views that overlook High Park and Lake Ontario.

Shopping

High Park is conveniently located within walking distance of 'Bloor West Village', one of Toronto's most popular shopping districts. The 'Village' is known across the City for its European bakeries, delicatessens, specialty food shops, cafes and restaurants.

High Park's other major shopping area is the 'Junction Gardens', along Dundas Street West. This recently revitalized retail district has gone back to its roots as a railway centre by incorporating a railway lantern into the heritage street signs along Dundas Street.

Recreation

High Park encompasses 399 acres of public parkland. This city park includes a beautiful lakefront, an outdoor theatre, a zoo, a dog park, convenient parking, easy public transit access, picnic grounds, playgrounds for children - an adventure playground and a trackless train, a couple of eateries, an historic museum, flower gardens, many hiking trails, a bunch of squirrels and various events throughout the year..

High Park's sports facilities include tennis, baseball, soccer, lawn bowling, swimming, and skating, as well as walking, jogging and cycling paths found throughout the park.

You can read all about the rich history of High Park at the Runnymede Public Library on Bloor Street or the High Park Public Library on Roncesvalles. Both these libraries offer a myriad of programs for neighbourhood residents.

Schools

High Park Alternative Jr., 265 Annette St., (416) 393-9040
(Public School)

Keele St. Jr., 99 Mountview Ave., (416) 393-9035
(Public School)

Mountview Alternative Jr., 99 Mountview Ave., (416) 393-9037
(Public School)

Runnymede Jr. & Sr., 357 Runnymede Rd., (416) 393-9055
(Public School)

Annette Jr.& Sr., 265 Annette St., (416) 393-9040
(Public School)

Humberside Collegiate Institute, 280 Quebec Ave., (416) 393-0000
(Public High School)

Western Technical Commercial School, 125 Evelyn Cres., (416) 393-0500
(Public High School)

St. Cecelia, 355 Annette St., (416) 393-5218
(Separate School)

Montessori High Park School, 35 High Park Gdns., (416) 763-6097
(Private School)

Montessori Humberside School, 411 Clendenan Ave., (416) 762-8888
(Private School)

Transportation

The Bloor-Danforth subway line has three stations serving the High Park neighbourhood including the Runnymede, High Park, and Keele stations.

Motorists are approximately five minutes from the Queensway, which connects commuters to Lake Shore Boulevard and the Gardiner Expressway.
Swansea Village / Toronto
Neighbourhood & Community Overview
Swansea Village is the only Toronto neighbourhood that has its own community run Town Hall.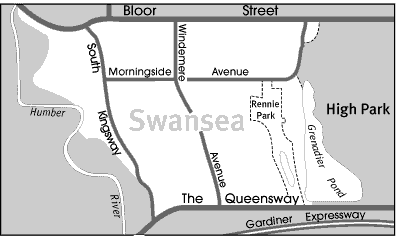 Swansea is also the only Toronto neighbourhood to have a lake, a river, and a pond as it's natural boundaries.
Swansea's hilly terrain, winding roads and many mature trees accentuate the storybook houses that line the residential streets of this neighbourhood.
Swansea Homes
Swansea's high end homes are located either at the western edge of High Park overlooking Grenadier Pond, or at the Brule Gardens enclave found in the north-west pocket of Swansea.
Swansea also contains a large number of semi-detached houses and bungalows located mostly in the centre of the neighbourhood. The typical Swansea house was built between 1905 and 1935.
At the south end of Swansea, down Windermere Avenue, is a cluster of rental apartment buildings. This pocket includes some of the original Swansea workers cottages, built in the 1880's.
Shopping
The most convenient shopping district for Swansea residents is the Bloor West Village shopping district on Bloor Street West. Bloor West Village features Toronto's best selection of European bakeries and delis.
Recreation
The Swansea Town Hall and Community Centre includes a small gymnasium, and a selection of meeting rooms available for a variety of functions. Swansea Town Hall is also the home of the Swansea Memorial Public Library, the smallest branch of the Toronto Public Library system. This branch specializes in material for children and seniors and provides complete inter-library loan services.
Rennie Park, located on the east side of Rennie Terrace, south of Morningside Avenue, has four tennis courts, an artificial ice rink, and a wading pool. High Park which can be accessed from Bloor Street, features a full day of recreational activities including fishing, theatre performances, train rides, an animal zoo, historical exhibits, a restaurant and a myriad of fitness opportunities.
Swansea Schools
(P) Swansea Jr. & Sr., 207 Windermere Ave., (416) 393-9080
(PH) Humberside Collegiate Institute, 280 Quebec Ave., (416) 393-0000
(PH) Western Technical Commercial School, 125 Evelyn Cres., (416) 393-0500
(CA) St. Pius X, 71 Jane St., (416) 393-5237
Transportation
Swansea is served by a bus route on Windermere and Morningside Avenues. The Runnymede and Jane subway stations on the Bloor-Danforth subway line are within walking distance of many of the houses in this neighbourhood.
Motorists enjoy the convenience of being located only minutes away from the Gardiner Expressway and Lake Shore Boulevard.
Copyright © "Your Guide to Toronto Neighbourhoods"
Source: Your Guide to Toronto Neighbourhoods / Wikipedia