Humber Valley - Community Info
Overview
Humber Valley Village is an upper middle-income family oriented neighbourhood. Its distinctive rolling topography, curvilinear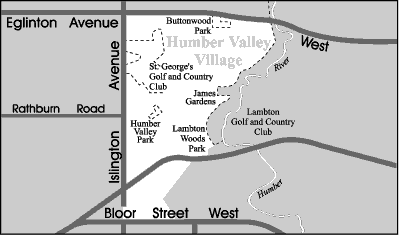 streets and abundance of mature trees are a byproduct of the Humber River Valley Ravine which forms the eastern boundary of this neighbourhood.
The two dominant geographical landmarks in Humber Valley Village are the St. George's Golf and Country Club which stretches across Islington Avenue, and James Gardens - a picturesque strolling garden located along the banks of the Humber River Valley.
Homes
Humber Valley Village contains a wide range of housing styles which can be attributed to the fact that this neighbourhood was built in stages from the 1930's up to the 1960's. Thus one can find handsome English brick and stone Manor houses on streets like Edenbridge and North Drive and then just a few streets away come upon a pocket of modest split-level and ranch style bungalows.
In fact, exploring the architecture of the Humber Valley housing stock provides a glimpse at most of the house designs made popular in Toronto from the 1930's onward. These styles include Georgian, Colonial, Tudor, English Cottage, Cape Cod, ranch bungalows, split-level, contemporary and modernist designs.
Humber Valley Village also contains a large number of rental apartment buildings on The Kingsway and on Anglesey Boulevard west of The Kingsway.
Shopping
The residents of this neighbourhood do most of their shopping at the Humbertown Shopping Centre located off Royal York Road just north of Dundas Street. This upscale shopping centre is anchored by a grocery store, a liquor store, and a popular bakery and cafe restaurant.
The exclusive shops at Humbertown include a jewellery store - manned by a uniformed police officer, a meat boutique that sells wild caribou, venison, mascovy duck, wild boar, ostrich, quail, bison and more, and a well appointed interior design store. There are also two ice cream shops, a camera shop, gift stores, specialty food stores, a nutrition centre, fashion and shoe stores, a travel shop, a frame shop and children's clothing, shoe, and toy stores.
Recreation
The St.George's Golf and Country Club off Islington Avenue has been described as "one of the most difficult, historic and interesting courses in the world." This private golf club has hosted the Canadian Open and has been rated as one of the five best golf courses in Canada. James Gardens, located off Edenbridge Drive features one of Toronto's loveliest strolling gardens highlighted by spring-fed pools, rustic bridges and colourful floral displays. James Gardens also features a rustic woodland trail that follows the banks of the Humber River.
There are public tennis courts at the Buttonwood, Central, Scarlett Mills and Humber Valley Parks. Baseball diamonds are located at Central and Humber Valley Park. Humber Valley Park also has an artificial ice rink. For cyclists the off-street cycling path on the south side of Eglinton Avenue connects to the Humber River Valley trails which link up with the Martin Goodman Trail on Toronto's waterfront.
Schools
(P) Humber Valley Village, 65 Hartfield Rd., (416) 394-7860
(PH) Etobicoke C.I., 86 Montgomery Rd., (416) 394-7840
Transportation
Bus service on Royal York Road and on Islington Avenue connects passengers to stations on the Bloor-Danforth subway line. The Eglinton bus connects passengers to Eglinton station on the Yonge-University-Spadina subway line.
Motorists are twenty minutes from downtown Toronto via Bloor Street, five minutes from the Highway 401 on-ramp off Islington Avenue and ten minutes from Pearson International Airport.