Islington-City Centre West - Community Info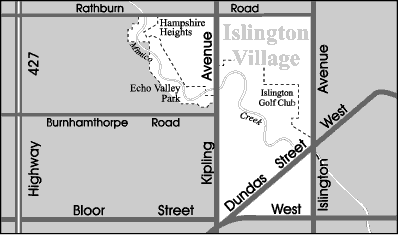 Overview
This countrified west-end neighbourhood has many fine attributes including an excellent selection of homes situated on mature lots, a historic shopping district on Dundas Street, an abundance of greenspace and parkland and convenient access to TTC and Go Transit stations. The Mimico Creek and the Islington Golf Club wind their way through the centre of this picturesque neighbourhood.
History
Islington Village began in the early 1800's with stores, churches, a school and a post office, centerd along Dundas Street West. The focal point of this village was Thomas Montgomery's Inn. The Montgomery Inn was a popular meeting place for the local villagers as well as the thirsty farmers taking their grain to the mills on the Humber River. Montgomery's Inn is now a local museum. It is one of the few buildings from the old Village of Islington to survive the residential subdivision of this neighbourhood which took place shortly after World War Two.
It is interesting to note that Islington was originally known as Mimico, but that its name was changed in 1858 to avoid confusion with the postal station at Toronto's Mimico Lakeshore neighbourhood. The Islington name was chosen by Elizabeth Smith, whose husband Thomas was proprietor of the local hotel. Elizabeth Smith chose the name Islington after her birthplace in England.
The Islington Burial Grounds on Dundas Street is one of the oldest cemeteries in Toronto. It was opened around 1807.
Shopping
The Islington Village shopping district on Dundas Street has an upscale tone with a small town feel. The list of stores here includes a gourmet food shop, a wine making establishment, a deli, a drug store, a hardware store, a flower store, a coffee house and a good selection of restaurants and cafes.
Further west along Dundas Street in the Dunbloor area are a cluster of small retail plazas, family style restaurants, professional and medical offices and specialty stores including a ladies golf shop, a lingerie store, and a leather store.
Recreation
The historic Montgomery's Inn located at 4709 Dundas Street West, is now a museum. This Georgian Loyalist Inn with its handsome riverstone exterior is one of the most beautiful and alluring buildings in Toronto. Montgomery's Inn hosts a number of year round festivals, a lecture series, and an afternoon tea in its cosy and comfortable tea room.
The Islington Golf Club features a Par 72, 6400 yard course that was designed by renowned golf course architect Stanley Thompson. This private club has a friendly atmosphere and is geared towards families.
If tennis is your game you will want to head to Rosethorn Park located just north of the Islington Golf Club. This park has three tennis courts and a children's playground.
The Islington Baseball League has been in operation since 1952. This club operates out of Rosethorn Park. Programs include Co-ed T-Ball, Boys and Girls Rookie Ball, Clinics and Rep teams.
Schools
(P) Islington, 44 Cordova Ave., (416) 394-7870
(P) Rosethorn, 2 Remington Dr., (416) 394-6360
(PH) Etobicoke C.I., 86 Montgomery Rd., (416) 394-7840
(CA) St. Gregory, 126 Rathburn Rd., (416) 393-5262
Transportation
Bus service on Islington and Kipling Avenues connect passengers to stations on the Bloor-Danforth subway line. The Kipling station also provides service to the Go Transit Line.
Motorists are approximately twenty minutes from downtown Toronto via Bloor Street. Commuters are within a ten minute drive of the Islington and Kipling Avenue on-ramps to Highway 401 which connects to all of Toronto's major highways.