Princess Margaret-Rosethorn - Community Info
Overview
Princess Anne Manor and Princess Gardens are virtually one neighbourhood. However east of Kipling Avenue has always been referred to as Princess Anne Manor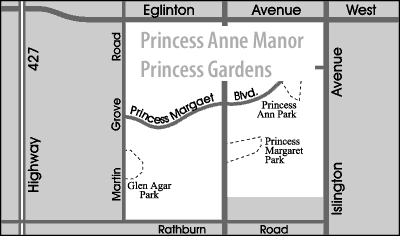 while west of Kipling Avenue is known as Princess Gardens.
This is a quiet family oriented community that is the epitome of suburban living. Here you will find wide open spaces, tall stands of mature trees, spacious houses, excellent schools, an abundance of parks, nearby golf courses and neighbourhood shopping plazas.
Homes
The mix of houses in this neighbourhood includes ranch style bungalows, storey-and-a-half houses, split-level homes, contemporary style bungalows and Georgian Revival family homes. Most of these houses were built between 1955 and 1965.
It is noteworthy that all of the houses in this neighbourhood are detached single family homes and the lots are exceptionally large with many streets offering eighty and ninety foot frontages.
Lifestyle
The Glen Agar Plaza, located off Lloyd Manor Road, features a small number of stores including a grocery store, bakery and delicatessen, beauty salon, bank, drug store, convenience store and professional offices.
Residents of this neighbourhood also shop at the nearby Thorncrest Plaza on Islington Avenue at Rathburn Road and the Humbertown Shopping Centre on The Kingsway.
Recreation
The main recreational facility in this neighbourhood is the John G. Althouse Community School located at 130 Lloyd Manor Road. This community school offers a variety of sports, music and arts programs for children and adults. They also host a Spring Flea Market and a summer camp.
Tennis courts, sports fields and baseball diamonds are available for public use at the John G. Althouse School and Princess Anne Park. Lloyd Manor Park is a wide open green space that has been the site of many exciting touch football games over the years.
Schools
(P) John G. Althouse, 130 Lloyd Manor Rd., (416) 394-7580
(P) Princess Margaret, 65 Tromley Dr., (416) 394-6350
(P) St. George's, 70 Princess Anne Cres., (416) 394-7990
(PH) Martingrove C.I., 50 Winterton Dr., (416) 394-7110
(PH) Richview C.I., 1738 Islington Ave., (416) 304-7980
(CA) St. Gregory, 126 Rathburn Rd., (416) 393-5262
Transportation
Bus services along Lloyd Manor Road, Kipling Road and Islington Avenue, connect passengers to stations on the Go Transit line and the Bloor-Danforth subway line. The Eglinton bus connects passengers to the Yonge-University-Spadina subway line.
Motorists are approximately twenty-five minutes from downtown Toronto, and five minutes from the Islington Avenue and Kipling Road on-ramps to Highway 401.